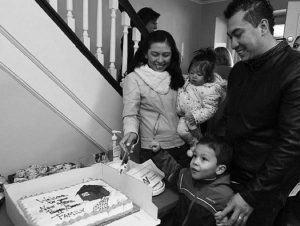 Morris Habitat for Humanity and new homeowners Orquidea Pappa and Gerson Saenz recently celebrated the dedication of their home in Mine Hill. Their home was the fourth and final home to be completed at Randall Avenue, the site of last year's Blitz Build event sponsored by Metro Builders.
Says Alan Archuleta, President of Metro and owner of Archuleta Builders, "We knew that the finish line was in view and that Morris Habitat was trying to button up the project, but they needed help. I came in with my team of 3 carpenters and did the work that they needed in three days to reach their goal. I am proud to have been a part of the great work that Morris Habitat does for the community."
Morris Habitat partnered with the Pappa/Saenz family to rehabilitate a three-bedroom home on Randall Avenue, property that was generously donated by the Lenox family. During our 10-day Blitz Build last summer, Morris Habitat built three other homes on the site.
Orquidea and Gerson have two children and had lived in a tiny, one-bedroom apartment in Morristown. Despite two incomes -- Orquidea works two jobs, running a cleaning service and cleaning a local nursery school, and Gerson is a handyman – they were priced out of the rental market.
In purchasing their home with an affordable mortgage through Morris Habitat, they will save nearly $500 a month. Orquidea said they are looking forward to saving money and having their own home where their children can play.
"I can't believe it. We are going to be the owners of a house!" Orquidea said.
Contributed by Metro Member Katherine Ritchey, Morris Habitat for Humanity