by Laura Credico of Interiors by Laura Staging and Design and Caroline Gosselin of The Gosselin Group of Prominent Properties Sotheby's Int'l Realty
We all know forming business partnerships and nurturing them is the key to running a successful company. This is one of the reasons we are members of NJ Metro Builders. We surround ourselves with other like-minded business owners to refer to and collaborate with so we can provide our clients with the highest level of service no matter what their needs may be. I am Laura Credico, owner of Interiors By Laura Staging & Design in East Hanover, NJ and Caroline Gosselin, the head of The Gosselin Group real estate team at Sotheby's International Realty in Millburn, NJ, and I have teamed up to share with you how NJ Metro has played a key role in our recent business endeavors!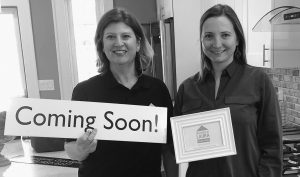 Caroline Gosselin and I first met at a Metro Membership Committee meeting on April 30th. When we went around the table to introduce ourselves and talk about what it is that we do, I had spoken about how we provide home staging and design services to homeowners, realtors, builders and investors. We are dedicated to making real estate goals happen quicker, smoother and simpler.. After our introductions at the membership meeting, Caroline immediately said, "Laura, we may have an opportunity to work together! Are you available tomorrow morning at 8 am?!" And that's where it all started.
Caroline and I arranged to meet at one of her clients recently renovated properties (flip), which was vacant, to do a walk through. This was a listing she was preparing to put on the market in a week's time and she knew it needed something to set it apart. We spoke about the value home staging can bring to empty homes, and how staging is a critical marketing tool that gives buyers that "feeling" when they walk through the front door of a prospective home. Eight seconds is all it takes for them to make up their minds. Staging is key!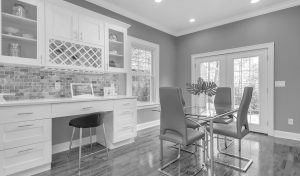 The South Orange home was beautifully renovated… new white kitchen with quartz countertops, gleaming hardwood floors, new bathrooms throughout. However, knowing her client was going for top dollar in a neighborhood that had not seen a price like that before, Caroline knew staging was going to be key to overcome some of the objections. The goal of home staging is to re-focus prospective buyers' eyes away from the challenges of a home (and most of them usually have one or two challenges!). In this case, it was in a tough location on a hill, the exterior looked a bit tired and there wasn't much of a backyard.
Wanting to ensure their listing sold quickly and for top dollar, we created a design plan specifically geared towards the target market of prospective buyers. Sometimes the investment in staging is a hard sell, but this client knew he was facing an uphill battle if he wanted to achieve the price. He saw that the value of staging coupled with the marketing plan that Caroline and her team had put in place was a winning combination. We installed one of our staging packages a few days later.
It was all in Caroline's hands now! Caroline had her professional photographer capture the property and it was off to the races. Probably best left for Caroline to tell you her part! Thanks Laura! This is Caroline and yes, after Laura did an amazing job with transforming the property and highlighting its best features, we had it all captured by our Sotheby's photographer. We then planned out a launch week for the property which consisted of going live on the market on Monday, having a catered broker open house for agents to preview the property on a Tuesday. We had showings during the week and then our team planned for 2 public open houses - one on Saturday and one on Sunday. The house had a great opening week and the feedback was amazing, but for one thing - the price was a little too high.
This happens. Our clients wanted to be sure they weren't leaving money on the table and we understand that. Though we did discuss the pros and cons of pricing too high when coming on the market, the final list price is always our client's decision. Pricing is key and if you don't get it right the first time, you have maybe one opportunity to course correct. Within 3 weeks, our client agreed to lower the price to $699K and that ended up garnering us 2 offers (one cash!) over the new list price. Even with the price drop, we ended up selling the property for the highest price seen in that neighborhood in over a decade!
Placing a house on the market is like launching a Broadway Show. It takes lots of planning, careful consideration and you have to have good actors! Luckily for our production, Laura and I worked together to make this one a show stopper! I look forward to collaborating with Laura on many more projects to come, as I trust her implicitly with dealing professionally with my clients and staging a home to perfection!
Thank you NJ Metro for the opportunity to collaborate with top notch professionals!