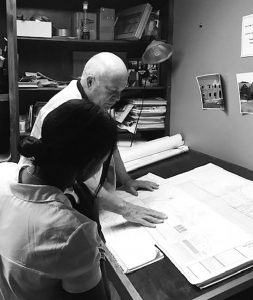 On March 20, 25 years after graduating from Union Catholic Regional High School in Scotch Plains, NJ, I was invited back to share the journey of how I began a career in the building products industry at Career Day 2019.
I was one of 33 Alumni that shared their story about how their career unfolded. I sat on a panel with four other professionals. A transportation architect, a nutritionist, a nurse and a military hero, feeling slightly nervous because I was going to share my journey about the building products industry. My co-panelists were literally saving lives and I was sharing about windows and doors.
Things didn't get much better, when I started my speech by asking the youth, "Raise your hand if you have ever heard of a lumberyard!" Not one hand raised. I took a deep breath and began to explain our industry. How unique our industry is, and how once you are in, you may recycle to other companies, but typically you don't leave. How our industry is special because it is a relationship business and much of the industry is multi-generational.
Then I began to get some interest.
Fast forward from the panel discussion with juniors and seniors, and now I am in the career fair portion of the day, where sophomores were included as well. I had window corner cuts, some swag, and I showed an assortment of the 50 + E-series colors that Andersen offers in the Architectural Collection,  thinking colors may catch the eye of the youth. I had quite a few young people stop by and ask questions and leave.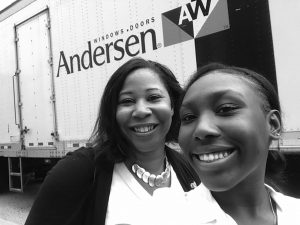 And then there was one young lady, Sophomore Yasmen Edmondson, asked even more questions than most. And towards the end of our conversation, she asked to shadow me for the day. I was elated! I told her she would have to ask for her parents' consent and I would be more than happy to plan a day.
Roughly 45 days later, I received a Linked In request from the Yasmen's father. He informed me that I inspired his daughter and she was eager to shadow me. I was impressed with the follow-up and the follow-thru of this young lady!
On August 8, I was able to put together a culmination of my network and give back in an unbelievable way. I met Yasmen, we had a light breakfast, and I explained about Andersen Corporation and gave Yasmen 115 years of rich Andersen history in an hour! We then headed to Huston Lumber & Supply in Watchung, NJ and received a wonderful tour from the General Manager, Bruce Stout, who introduced Yasmen to every integral person at Huston Lumber and showed her everything from how it begins with blueprints to how trucks are loaded and product is delivered, processed, invoiced, and
if necessary, service on Andersen products Huston sells.
We then partnered with GTG Builders and Yasmen was able to tour a beautiful custom new construction home in Tewksbury, NJ. This was one of the highlights of Yasmen's day, as she had never seen a new construction home before.
We concluded our day with a visit with Yolanda Sheffield Williams, Executive Officer of Metro. Yolanda explained to Yasmen the benefits of the Builder Associations, how we are local chapters of NAHB and how we support and educate builders in our industry through networking, and educational events.
As we drove back toward home, Yasmen and I smiled and each other and relived her favorite parts of the day. She is a very bright young lady, apart of the National Honor Society and a true leader, which you can feel in her presence. Yasmen is beginning her Junior year, participates in Track, has big plans for college, and will focus on a Business Major.
This was a true full circle moment for me – being able to give back in this amazing way to my community that has given so much to me!
I want to thank my dealer partner Huston Lumber & Supply for their partnership and for trusting me with my "outside of the box" suggestions and for being a significant part of the day.
An extra special thanks to GTG Custom Home Builders owner Andrew Giannattasio, and the GTG team for the beautiful homes you build, using Andersen products, and Bob for the after-tour informational session.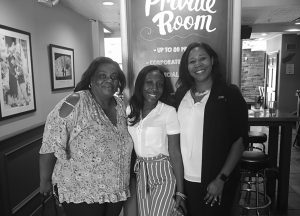 A big thank you to Yolanda Sheffield-Williams, Metro Executive Officer and President Alan Archuleta for the opportunity to share all the great things that Metro Builders Association can provide to our builders and associate members.
Last, but not least, my sincere appreciation to Yasmen's parents for allowing their daughter to shadow me for the day. It was a truly special day for both of us.
My challenge to everyone is this- find a young person that you can talk to about our industry. It is hard work, it can be frustrating, and there are a lot of moving pieces. However, it is treasure of stories, fun, rewarding, and no day is ever the same!
What we take for granted every day, is a very special and niche industry, and the stories deserve to be told. You never know what young person might be inspired by your journey!
Submitted by Metro Board Member Tammy Murray of Andersen Corporation