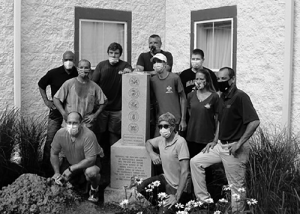 Metro Members rose to the call from Joey Coppola, son of Frank Coppola, needing assistance in reaching his goal to be an Eagle Scout, which is a really big deal. Joey, will be a Senior in high school in Hunterdon County where he is a Boy Scout of Troop 191. On a scout's journey to acquiring the rank of Eagle, one of the most significant steps to earning this rank is for a scout to complete an Eagle Scout Project. His project idea surfaced after he helped a dear friend, Mr. James Phinny, who is one of the many brave men who stormed Normandy on D-Day and later served in the Korean War  -  James became a role model, for Joey.
Boy Scouts of America was formed in 1911 and since their inception, only four percent of Scouts have earned this rank. The Eagle Scout rank has only been earned by about 2.5 million youths over the past 109 years.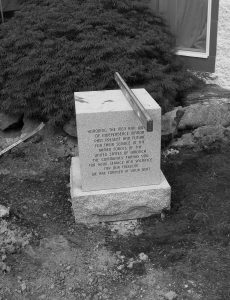 In July, Joey Coppola contacted our association asking for some volunteers to assist him in completing the erection of a Memorial Monument for Veterans at Independence Manor Retirement Home in Flemington, NJ. I sent out an email blast titled: Member Needs Help and a squad of our members responded immediately. Four days later, the Metro volunteers met up with Joey at the retirement home to uncrate, move and place the 3-piece granite structure.
The squadron of volunteers consisted of: Brian Maffia, with General Plumbing & Supply, a Hammer Sponsor at Metro; Jimmy Villane, son of Don Villane, from Villane Building & Development in Scotch Plains; Mike Brusky from Eastern Contractor Services in Flanders and lastly Geraldine Smith, with All Inclusive Construction & Building in Branchburg who also brought Doug and Ed from her construction crew.
Now, all that is left for Joey Coppola to do is to let us know that he reached his goal and was awarded the Eagle Rank.
While we had no idea how heavy a task we were undertaking, we got it done with a lot of joking around and comradery, which is what the association is all about. This executive officer is giving a big shout out of "Thanks" to the squad that helped. You guys are the greatest!