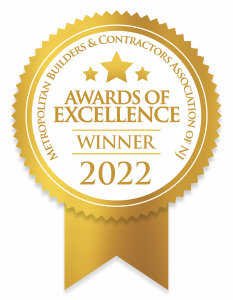 Metropolitan Builders & Contractors Association
2022 Awards of Excellence - June 9th
This year the Metropolitan Builders and Contractors Association was thrilled to give out 66 Awards on Thursday, June 9th at our 38th Annual Awards of Excellence. Awards included Home of the Year, Rental Community of the Year and Metro's Partnership Award - one of the most prestigious Awards a member can win. This year's Metro Partnership Award went to Kenneth Fox of Fox Architectural Design, P.C.
New Metro member, Larken Associates won in 13 categories including Best Rental Community of the Year while WA Construct won 9 awards including the coveted Home of the Year Award for Hodge Road in Princeton, New Jersey. We cannot forget about Metro's Earlybird Winner – Phil Calinda of Millennium Custom Homes who swept every category he entered.
Thank you to everyone who came out to celebrate all the amazing and very talented group of people that Metro is made up of. You can see the full list of all the 2022 AOE Winners below.
2022 Awards of Excellence Winners List
Builders – New Construction
Best Color Ad for a Company - Woodmont Properties
Best Color Ad for a Community – Larken Associates – Autumn Ridge at Lopatcong, NJ
Best Digital Display Ad – Larken Associates -- #LarkenLiving
Best Radio Commercial – Your Town Realty
Best Community Sales Presentation Video – Larken Associates – Autumn Ridge at Lopatcong, NJ
Best Community Brochure – Larken Associates -Autumn Ridge at Lopatcong, NJ
Best Digital Direct Mail Piece – Larken Associates – Autumn Ridge at Lopatcong, NJ
Best Use of Social Media – Balassone Builders
Best Logo for a Company -- Balassone Builders
Best Logo for a Community – Larken Associates – Autumn Ridge at Lopatcong, NJ
Best Website for a Company – Cross River Design – www.crossriverdesign.com
Builder Special Event – Woodmont Properties - Woodmont Way – "Virtual" VIP Event
Best Sales Office for a Community – Larken Associates -Autumn Ridge at Lopatcong, NJ
Best Landscaping for a Single-Family Home Residence – Cross River Design – Raziano Stone Courtyard
Best Signage for a Community – Larken Associates– Autumn Ridge at Lopatcong, NJ
Best Model Home Under $2,500 Per Month – Larken Associates – Autumn Ridge at Lopatcong, NJ
Best Community Clubhouse - Larken Associates– Autumn Ridge at Lopatcong, NJ
Best Accessory Building – Millennium Custom Homes – Hartshorn Drive, Short Hills, NJ
Best Specialty Internal Feature Room – Balassone Builders– Keyes Street
Best Affordable Mt. Laurel Home – Morris Habitat for Humanity – 4123 Spruce Street, Township of Plainfield, NJ
Best Rental Community Under $2,500 – Larken Associates– Autumn Ridge at Lopatcong, NJ
Best Mid-Rise Multi-Family Housing Over $500K or Over $2,500 per month - Belmont Construction – New Darlington - Summit, NJ
Best Single-Family Home-$500,000-$750,000 – Fallone Group – Claridge Lane
Best Single-Family Home-$750,000-$1,000,000 – Fallone Group – Sophie Street – Somerville, NJ
Best Custom Single-Family Home-$500,000 - $750,000 – Main Street Custom Homes & Remodeling – Collins Lake House
Best Custom Single-Family Home-$1,000,000-$2,000,000 – Balassone Builders– Lalka Residence – Florham Park, NJ
Builders – Remodeling/Renovation Projects
Best Historic Commercial Renovation – Coppola Brothers, LLC – Red Mill Inn
Best Historic Residential Renovation – Cross River Design – Preservation Project – Barr Residence – Milburn, NJ
Best Commercial Renovation - $500,000-$1,000,000 – Coppola Brothers, LLC – Quantum Float
Best Outdoor Living Space – All Inclusive Construction – Plantar-Boxed Benches
Best Accessory Building Renovation – Cross River Design – Martin Rooftop Pool
Best Interior Special Feature Room Renovation – Millennium Custom Homes – Laurel Avenue – Bar Room
Best Remodeled Kitchen Under $50,000 – Your Town Realty – With A Hint of Mint
Best Remodeled Kitchen $50,000-$100,000 – WA Construct – Melbourne, NJ
Best Remodeled Kitchen Over $100,000 – Millennium Custom Homes – Laurel Avenue – Livingston, NJ
Best Remodeled Bathroom Under $25,000 – WA Construct – Modernized Victorian Master Bath
Best Remodeled Bathroom Over $25,000 – WA Construct – Soak by the Fireplace – Princeton, NJ
Best Residential Addition or Alternation $50,000-$150,000 – WA Construct – Plainfield Road
Best Residential Addition or Alteration $150,000-$250,000 – WA Construct – Seminary Street – Second Level
Best Residential Addition or Alteration $250,000-$500,000 – Millennium Custom Homes – Hartshorn Drove-Short Hills, NJ
Best Residential Addition or Alteration Over $750,000 – WA Construct – Hodge Road – Princeton, NJ
Associate Member Categories
Best Company Black and White Ad - Wells Fargo Home Mortgage
Best Company Color Ad - Saiber
Best TV Commercial – Reno's Appliance
Best Direct Mail Piece-Traditional Mail – White House Designs for Life
Best Use of Social Media – Karen Adamsbaum Valley Bank – The John Morgan McLachlan Agency, Inc.
Best Company Logo – Custom Sign Source
Best Special Events – Ferguson – Ferguson Salutes Our Troops
Best Special Promotion – Caroline Gosselin-Experience NJ Team at EXP Realty – Awards of Excellence Video
Best Creative Sales & Marketing Support – Nicole Prato-Experience NJ Team at EXP Realty – 8 Francesca Court
Best Company Showroom or Sales Display - Ferguson
Best Outdoor Space – Bowman Consulting – Molly Brook on Belmont – North Haledon, NJ
Best Architectural Design Single-Family New Construction Under 3500 Sq. Ft. – Fox Architectural Design – Dacotah Avenue – Township of Parsippany-Troy Hills, NJ
Best Architectural Design Residential Single-Family Renovation – Fox Architectural Group – Spierer Residence – Paramus Borough, NJ
Best Architectural Design Multi-Family New Construction – Appel Design Group – The Dayton Apartments Garden Communities – Ridgewood, NJ
Best Architectural Design Commercial New Construction – Fox Architectural Design – Beverwyck Road – Township of Parsippany-Troy Hills, NJ
Best Architectural Design Commercial Renovation- Appel Design Group – Adoni Property Group – Westfield, NJ
Best Engineering Site Design-Multi-Family Housing or Mixed-Use Building – Bowman Consulting– Molly Brook on Belmont – North Haledon, NJ
Best Engineering Site Design – Commercial Property – SESI Consulting Engineers– Clay Avenue – Lyndhurst, NJ
Best Engineering Site Design-Stormwater Management – SESI Consulting EngineersBJ'– East Rutherford, NJ
Individual Achievement Awards
Leasing Consultant of the Year – Larken Associates – Susan Livingstone
Sales Manager of the Year – Your Town Realty – Ronnie Glomb
Project Manager of the Year - Millennium Custom Homes​ – Dan Taquinto
Community Award
Best Rental Community of the Year – Larken Associates – Autumn Ridge at Lopatcong, NJ
Home Award
Home of the Year – WA Construct – 149 Hodge Road - Princeton, NJ
Partnership Award
Metro Partnership of the Year – Ken Fox