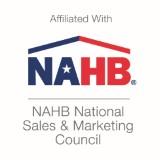 Top 10 Reasons to Join the Sales & Marketing Council
The most up-to-date Sales & Marketing trends and events
Know what's happening today in the new construction marketplace
Increase your professionalism
Increase your success margin
Network with others in the same business
Educational Seminars and Forums to exchange ideas
Learn how to sell in any market
Receive a monthly marketing ideas newsletter
Online SMC Ideas magazine that contains in-depth analysis on marketing and trends
Obtain market research information and find out how to use it
SMC Charge
To help improve the sales and marketing capabilities of SMC members (builders and associates), businesses and provide connectivity through relationship building activities where SMC members can network, add and gain value from each other and grow Metro as an organization.
Please Note: In order to join the SMC you must be a current member of Metro (HBA). Our Fee is $75 to join.
General Membership Event
Tuesday, May 17th 2022
6:00 to 9:00 PM
Sunken Silo Brew Works
Come learn the power of having a clear message, delivered in an engaging and attention grabbing way that will leave a long lasting impression with  both your current and potential clients. Our format will be lively and interactive with a breif panel and time for audience Q&A to get your sales and marketing questions answered by our panel experts.
Currrent Speakers
Rich Silivanch - Silivanch Communications https://silivanch.com/
Pete Verrone - Spinneret Consulting  https://spinneretconsulting.com/
SMC Breakfast - AOE: How to Maximize Your Award
Wednesday, June 1, 2022
8:30 to 10:30 AM
Fellow Metro members will talk about how they've leveraged winning a AOE to maximize its impact on their business
SMC Breakfast - Speed Dating
Wednesday, September 7, 2022
8:30 to 10:30 AM
Each attendee will rotate around in a "speed dating" format, spending time getting to know their fellow members' businesses
SMC Breakfast - Trends Roundtable
Wednesday, November 5, 2022
8:30 to 10:30 AM
Robust discussion between Metro members on the latest trends they are seeing within the industry and what trends they expect for the upcoming 2023 year